Meet Britt, Finn and Rue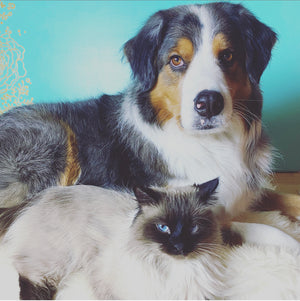 Hi, I'm Britt and anyone who knows me knows I LOVE animals. I developed a connection with animals at an early age and always knew they would play a part in my life path. Animal rescue is something I have become very passionate about and I am so excited that Lucky Bubs will be able to make a positive impact on the lives of so many animals in need.
Just over 5 years ago my husband and I adopted our first dog, a 6-month-old Australian Shepherd Cross named Chili, who we soon renamed to Finnley. Finn's first 6 months of life are a mystery, he was found wandering the countryside in a pack of dogs in the dead of winter. When his rescuer discovered him, Finn was the first dog in line to jump into her Jeep. Finn came to us as a terrified puppy and has completely transformed into the neediest, food crazy, loving dog! Finn's rescuer told us that he was 'one in a million' and we could not agree more, he is very special to us!
Rue came into our lives a little over a year ago. She was brought into the animal shelter with her mother and littermates. She caught my eye while scanning through local rescue sites online (shocking, I know!) and 24 hours later we had a kitten addition to the family! Rue has become the bossiest girl in the house although I'm a close second.  She is full of personality and is always up to something, whether it be knocking items off the countertop, trying to steal any food she can get her paws on or bugging her big brother Finn.  Stay tuned to learn more about these two fluffballs!
Britt
Leave a comment